17-02-08
A strange name for one of the most beautiful easy tours close to Chamonix. This 2000m summit can be reached either on skis or with snowboots. You can start from Combloux or Megeve and use the lifts : you will then have a short 300m climb to reach the top. You can also start from Cordon and climb 900 meters. On the way down, if you are skiing, you may go down to Les Giètes and use the lifts and pists all the way back to Combloux. Whatever the way you choose, from this summit you will have the most beautiful view you can imagine on the Mont Blanc range !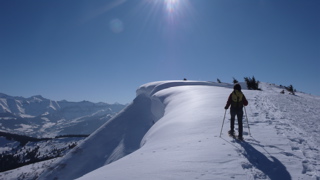 03-02-08
Everything was going fine yesterday : we had a quite heavy snowfall, without wind, and it made us expect a perfect Vallée Blanche on this sunny Sunday. "Hélas", a strong wind was blowing on the ridge of the Aiguille du Midi, and it increased dramatically along the day. The Vallée Blanche became a kind of white hell, with violent spindrifts. It was even difficult, sometimes, to see where you were skiing...
And even at the Mottets, just after having left the glacier and before skiing down the easy trail to Chamonix, instead of have a nice drink in a warm sun, the wind created a fantastic atmosphere !