28-04-07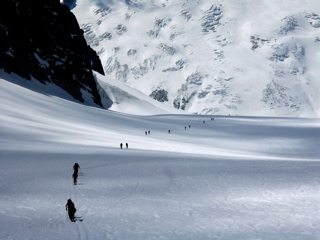 Skiing late in the season gives a strange feeling. In the valleys spring is here, flowers, smells and desire for summer activities. At this time of the year, you may forget that spring snow is one of the most enjoyable, smooth and safe, and just forget skiing. With 4°C this morning in Chamonix, we had the guarantee for a nice way up with the skins, and a perfect snow on the way down. We were not by ourselves today, but I guess all of us felt like the mountain was for each of us.
02-04-07
Some day my Prince will come !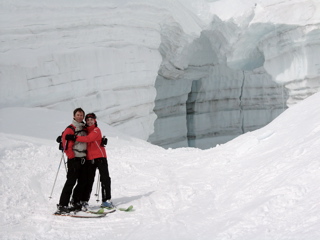 01-04-07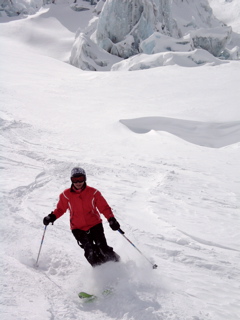 A winter snow for a spring day. Every year we have such good surprises. We started in the clouds, trying to get a chance for an exceptional descent. Perfect conditions are still better when it comes after a moment of doubt... The Black valley is the name for the right bank of the Vallée Blanche ; it is usually quite dangerous for its crevasses, but it happened to be very safe this winter, due to the changes in the glacier.